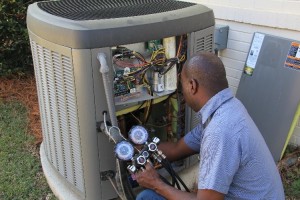 Every system including the human system has a beginning and an end. This same pattern is replicated in HVAC systems which start as efficient and effective, but as they age, they start falling apart. One of the responsibilities of a homeowner is to ensure his family lives comfortably in the house all through the year. When it comes to weather control, this means keeping the house cooler during summer and warmer in winter.
HVAC repair and maintenance involves technical aspects that require expertise and experience which for some reason we do not have. This is the reason why we depend on HVAC repair specialists. Getting prompt appointments with HVAC contractors requires that you know when exactly to make the call. When you wait until your system has completely fallen apart in the middle of winter or summer, you may have to wait for several days or even weeks to get an appointment. Also, such repairs come with a cost burden.
The seasonal guide discussed below gives you some tips on when to get in touch with repair men so that your system can be attended to in good time.
Spring
If you want your HVAC system checked and fine-tuned for summer, the middle of spring is the best time to call a HVAC technician to inspect and do some preventive maintenance on your system. The wait times are normally shorter compared to the height of summer when everyone who didn't prepare early enough makes frantic calls to HVAC technicians. Spring maintenance of your system is done with care as the technicians clean your filters or replace them, check your refrigerant levels, lube your motor, and clean your coils. These simple procedures can prevent major AC failures in summer.
https://vimeo.com/115297452
Summer
Summer is not the best time for a HVAC repair. If you didn't do the necessary preventive maintenance during spring, summer may be difficult because most HVAC experts are busy attending to a long line of other customers. In fact, professionals recommend DIY tricks during this period such as checking your thermostat, removing dust and debris, as well as changing filters. Having your AC repaired during summer is very expensive.
Fall
As temperatures start dropping towards fall, you can take advantage of this and call a specialist to fine and inspect your heating system. It is the best time to beat the rush. You should also take the time to stock a number of furnace filters which are normally cheaper when bought at this time than during winter.
Winter
There is almost nothing you can do during winter if your system breaks down. The piles of ice makes it hard for everyone including the HVAC specialists to access and repair your system. You can also try some HVAC DIY tricks before picking your phone and calling the repair man. You may want to check whether the thermostat is working right, the pilot light is still on, and your filters not clogged.
It is always good to be safe than sorry. Do not procrastinate your HVAC inspection and tune ups, they can save you the discomfort and the cash.