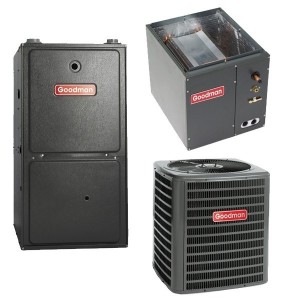 Heating, ventilating, and air-conditioning systems account for the highest percentage of energy used in residential and commercial buildings across the United States. However, every homeowner or business owner has the potential to realize considerable energy savings by increasing control of HVAC operations as well as enhancing the efficiency of the systems used.
Using high performance heating, ventilating and air conditioning system can result in significant energy and cost savings. This coupled with enhanced comfort in your indoor environment will be of great benefit to you and your family. Discussed below are the top benefits of installing a high performance HVAC system in your home.
Cost Savings
Replacing your older HVAC unit with a higher efficiency one can save you thousands of dollars in terms of energy costs in the long run. Most of the older systems operate at around 65 percent Annual Fuel Utilization Efficiency (AFUE) while the remaining 35 percent is simply lost. However, high efficiency units provide over 90 percent AFUE which is a great thing for both your pocket and the environment. Though the installation cost of a high efficiency HVAC unit is relatively high, it will pay in a couple of years.
Longer Operating Life
When a high efficiency system is properly maintained, it will require less major repairs and will serve you longer than a lower efficiency system.
Programmable Thermostat
A high efficiency HVAC system comes with a programmable thermostat which gives you great control over temperatures in different areas of your home. Some rooms need to be cooled or heated more than others and zoning enables you to do this hassle-free. This means you will enjoy optimal indoor comfort while saving on energy consumption. A programmable thermostat also allows you to pre-program temperatures in your home for set periods of time and as such you don't have to worry about the operation of your system when you are away.
Enhanced Indoor Air Quality
Thanks to advancement in technology, the modern high efficiency HVAC equipment provide more consistent airflow, maintain temperature at a more constant level as well as offer superior humidity control. The superior airflow aspect also helps to remove air impurities and prevent mold from your indoor space creating a more healthy and pleasant indoor environment.
Quiet Operations
Old heating, ventilation and air conditioning systems make a lot of noise when running, but the high efficiency systems have in-built high-tech sound absorbing materials that enable them to operate quietly. This enables you and your family to enjoy peace and tranquility of your home even when the HVAC system is running.
Environmentally Friendly
What is good for your home and wallet is also good for Mother Nature. High efficiency units consume 33% less fuel compared to older units. This translates to less energy wastage and better conservation of natural resources.
https://www.youtube.com/watch?v=4g4XUlASk9Q
Is It Time to Replace My HVAC System?
If your system is more than 20 years old, it's a wise decision to replace it with a high efficiency one. Also, if your unit is more than 10 years old and you are experiencing huge power bills or inconsistent operation, we recommend that you schedule a professional assessment of your unit to establish whether replacement or maintenance is the best course of action.
Contact AC Repair Miami experts today at (305) 507-8336 to discuss the best high efficiency HVAC system for your home.