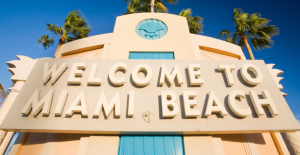 Miami Beach Air Conditioning Company[/caption]Price is one factor to consider when deciding which air conditioner to install and which Miami Beach AC company you should to hire to perform the installation. However, there are other factors you should consider. What else should I look for before my AC installation?
Qualified AC Technicians Miami Beach
You should only hire HVAC contractors for your AC installation who are qualified, certified, licensed and insured like ACRepairMiami. Ask the AC installer for his credentials. The HVAC tech may have an Energy Star certification from the EPA, have completed the ACCA's Quality Assured Contractor Program, Advanced Energy's Quality-Assured Professional program or North American Technician Excellence (NATE) program. These certifications ensure that air conditioning knows what they are doing and can perform work to industry standards.
You should refer to the Better Business Bureau's website to find out how long an HVAC company has been in business before hiring them to install your AC. Check the business' ratings as well as its time in business. Reputable contractors will only send experienced AC installers who will do the job right the first time.
Energy Efficiency Miami Beach
Energy Star rated air conditioners are those that are at least ten percent more efficient than the federal government's minimum energy efficiency guidelines. The Energy Efficiency Ratio or EER is a measure of how much or how little energy is required for an air conditioner to cool your home. Different types of air conditioners have different EER ratings necessary to qualify as an Energy Star certified unit. For example, for air conditioners with a capacity less than 6,000 BTU, it needs an EER of 9.7 or more if it has louvered sides and an EER of at least 9.9 if it lacks louvered sides to qualify be giving the Energy Star. However, an Energy Star rating isn't the only measure for whether or not you want to buy a particular air conditioner.
Most air conditioners have an energy efficiency ratio between 8 and 10. You can find units with an EER of 12 or 13. The SEER or Seasonal Energy Efficiency Ratio measures the performance of an AC in both temperate and hot conditions. The SEER value is not the EER; the SEER value is higher than the energy efficiency ratio. An air conditioner with an EER of 12 will have an SEER of 13.7. When comparing two air conditioners' energy efficiency, you can convert the EER to the SEER by multiplying the EER by 1.14. Air conditioners with greater energy efficiency are typically more expensive than less efficient units. This is a cost-benefit analysis home owners should consider before purchasing a new AC.
An AC installer should know how to install Energy Star air conditioners correctly while maintaining their efficiency, such as ensuring that the unit has adequate air flow and properly installs ductwork.
Miami Beach Air Conditioning Service
Ask about value added services. Can they clean your air ducts to remove the dirt and debris left behind by the old AC before putting in the new one? What warranty comes with the unit, both from the AC installer and the manufacturer, in case the unit needs to be repaired later? Can you sign up for an AC maintenance agreement for a small, additional cost?