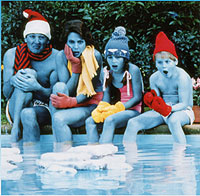 One of the best things about living down here in South Florida is the year round awesome weather, which enables year round swimming, running, and all other types of outdoor activities. There are times however when the weather is just a tad too cool, for swimming, and this where the wonderful pool heater comes in to play.
Making a huge difference by warming your pool a few degree is the difference between being able to enjoy your pool with your family and just simply having it be too cold. So it is important that in the event that when you need pool heater repair services, there is a qualified pool heater professional you can trust and rely on to keep your pool comfortableA reliable HVAC company like ACRepairMiami, has the ability to do all the things you would expect like air conditioning repair, duct cleaning, and also amazing pool heating maintenance or repair. There is a certain level of quality and trust you should be able to expect from a pool heater repair company, and this one certainly delivers the reliable pool heating service that can be counted on for comfort.
Qualified Duct Cleaning Services and Repairs
In the event that there are issues with like pool heater not turning on, pool heater not heating, or pool heater simply won't turn over, there is usually one phone call that can solve alll these issues. Dade knows pool heater from ACRepairMiami is the way to go to ensure that pool heaters maintained in the most comprehensive and reliable manner.